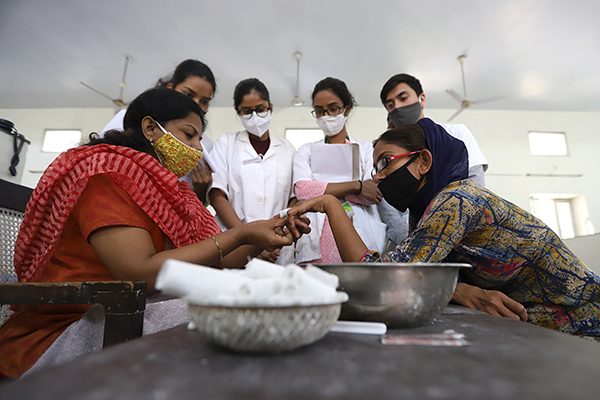 Self-care for prevention of ulcers and disability (in the worst cases) is at the core of The Leprosy Mission's healthcare interventions. Both at The Leprosy Mission hospitals and in the communities, the leprosy patients are trained in soaking, oiling, and caring for feet and hands to avoid dry and cracking skin, which increases risk of ulcers. They are also trained in inspecting and treating wounds and infections so that they do not become complicated. The patients are made aware of preventative methods to be practiced when performing daily life activities.
TLMTI is working towards bringing disability prevention and management services to the doorstep of people through its Mobile Therapy Clinic. People affected by leprosy are often cut off from specialised care because of several barriers. However, ulcer care, pre-surgery and post-surgery physiotherapy and related services require timely and persistent intervention. The mobile clinic comes equipped with a team comprising physiotherapist, occupational therapist, prosthetist, and orthotist, along with nurse and community volunteers. They provide ulcer dressing at the doorstep, self-care training, podia-scan, customised splints / orthotic devices, and physiotherapy and occupational therapy.
Trainings for both internal and external staff are conducted on prevention of impairment and disability, management of ulcer and foot deformities, footwear prescription, and smears. To expand India's pool of surgeons having expertise in Reconstructive Surgery, TLMTI trains surgeons with the support of the Central Leprosy Division.
At the community level, TLMTI sets up village-level therapy units and organise POID camps in leprosy-endemic areas in collaboration with state governments wherein people in hard-to-reach areas come and get themselves assessed.