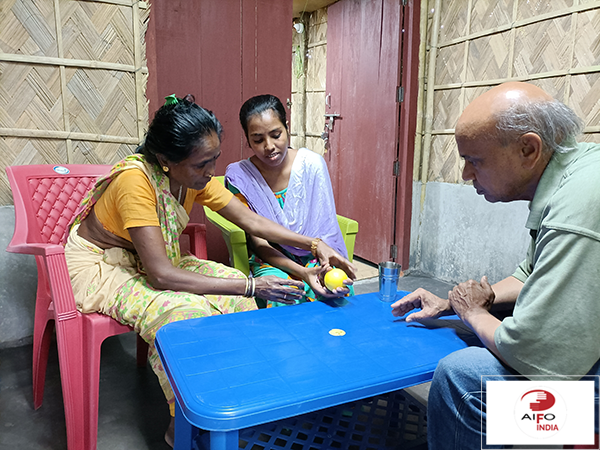 Digital solutions for homebased disability prevention: ALM and HRL are piloting a modular smartphone application DHARAWL2 – Digital @ Home Artificial Intelligence enabled, Real-time, Appropriate interventions for WASH, Lymphatic Filariasis, and Leprosy – that screens for five interconnected verticals at the household level: Socio demographics, WASH, Nutrition, Disability, and Disease. A semi-automated layered logic grades input information and populates customized homebased interventions for disability management based on global best practices, while data generated rapid integrated mapping guide service delivery. Trained local women are using DHARAWL2 to screen 310,439 people in 62,701 households in Bihar.
Custom footwear to preserve mobility: ALM and SIHRLC, Karigiri are developing high-fidelity, custom, cost-competitive footwear using computer aided 3D scanning, designing and printing technology to prevent progressive damage to anaesthetic feet and preserve people's ability to walk. The scanning and designing can be done remotely by trained personnel at any clinic where the patient is seen, and emailed to a Central Fabrication Unit in SIHRLC Karigiri. The geographical areas covered are five north-western districts of Tamil Nadu, and one southern district in Andhra Pradesh.
Tactile sensors to prevent plantar ulcers: There are very few devices available that can predict the site of impairments at an early enough stage to prevent them from occurring. ALM and SIHRLC, Karigiri are testing innovative tactile sensory feedback systems in footwear insoles that alert the wearer through a signal, when their plantar pressures peak to dangerously high, ulcer-causing levels so that they immediately alter their gait or release the weight on the high-risk, insensitive foot.